In the impression of most of the students, Prof. Gu Lin showed as a vigorous and knowledgeable young scholar, however, a motto often told by Prof. Gu is that "The environmentalists should adhere to the spirit of craftsman, apply what they have learned to the actual engineering practice, and always integrate knowledge with practice."
When it comes to Professor Gu's craftsman's original intention, his students have the loudest voice. Since 2013 when Gu lin joined USST, he led the students to research and design innovative environmental protection projects, and won many honors. Prof. Gu is not only rigorous and serious in the research subject, but also pays more attention to the cultivation of students' enthusiasm and interest in scientific study. Besides the classroom knowledge, He often introduces the research focuses and innovative ideas to the students, guides students to carry out innovative research topics, grasp professional knowledge through experiments, and finally achieves the unity of knowledge and practice. "It is very important to cultivate the innovation consciousness of contemporary students, and providing enough practice platform and opportunity is the foundation of innovation education." He said.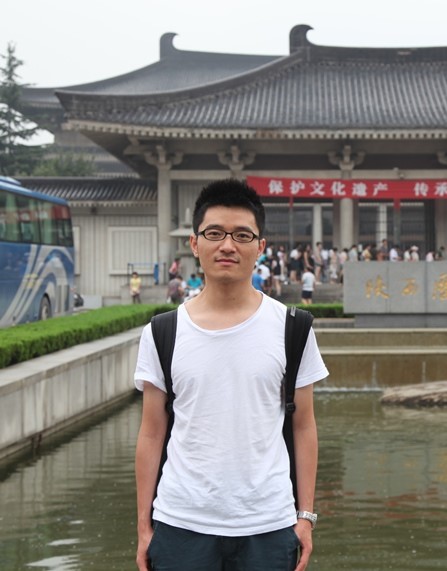 From some excellent students, his innovation education would be better understood.
Chen Xu, a 2015 grade Environmental Engineering Undergraduate student of USST, won the first prize of the third Huichuang youth exhibition of cultural and creative works of University students in Shanghai (Environmental Design), the 2018 Langsheng China University Student water resources utilization and Protection Research Competition Award, authorized with a utility model patent, and published a paper in Chinese Core Journals under the instruction of Prof. Gu.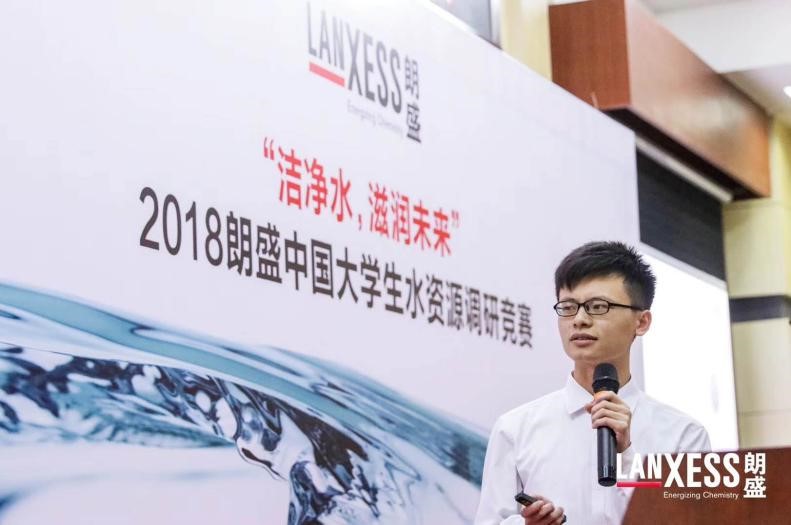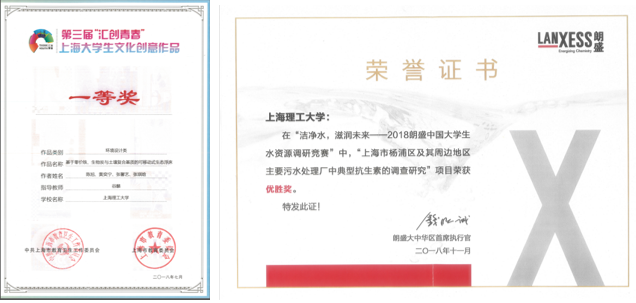 Chen Xu's works "Movable ecological floating bed based on zero valent iron, biochar and soil composite matrix" is the representative of Prof. Gu's innovative idea. The ecological floating bed is powered by solar panels, connected by three propellers, and has a whole plant planting area and composite matrix filling area in the center. Chen Xu introduced that it can utilize the synergistic effect of zero valent iron enhanced biochar adsorption and plant absorption, as well as the assistance of microbial biochemical action, to obtain the enriched removal of nitrogen, phosphorus, and organic pollutants from water body. On the other side, using the coupling device of solar power and propeller to purge oxygen into the water could improve the dissolved oxygen distribution in the water and promote the growth of aquatic organisms, while the setting of propeller and control plate could realize the movement of the whole floating bed.


It is worth mentioning that the growth of traditional floating bed plants is usually limited by seasons and water quality conditions, and the effect of water purification would also decline. Moreover, most floating beds were fixed, they need to be placed, adjusted and repaired with manual rowing, which was not very convenient. This idea closed some loopholes of traditional ecological floating bed technique.
Wu Danhui and her team completed another innovative environmental protection project ---"cost-effective photocatalytic faucet water purifier" under the guidance of Prof. Gu. This is a water purification device suitable for domestic drinking water purification and treatment, especially for old residential areas. It applied the popular photocatalytic degradation and sterilization technology, using the graphite phase carbon nitride as the material, the service life of the filter could be prolonged through the adsorption-degradation procedure,it also achieved the effect of disinfection, and the cost is lower than the traditional water purifier.
The biggest highlight of this faucet water purifier is its practicability, it could be directly installed on the faucet, and especially suitable for the end treatment of domestic tap water. Its self-cleaning function improved the safety and avoided frequent replacement of filter. This innovation project won the first prize in the Challenge Cup Shanghai college students' extracurricular academic and technological works competition, the third prize in the 16th Challenge Cup Shanghai college students' extracurricular academic and technological works competition. Based on this, Wu Danhui applied for a Utility model patent.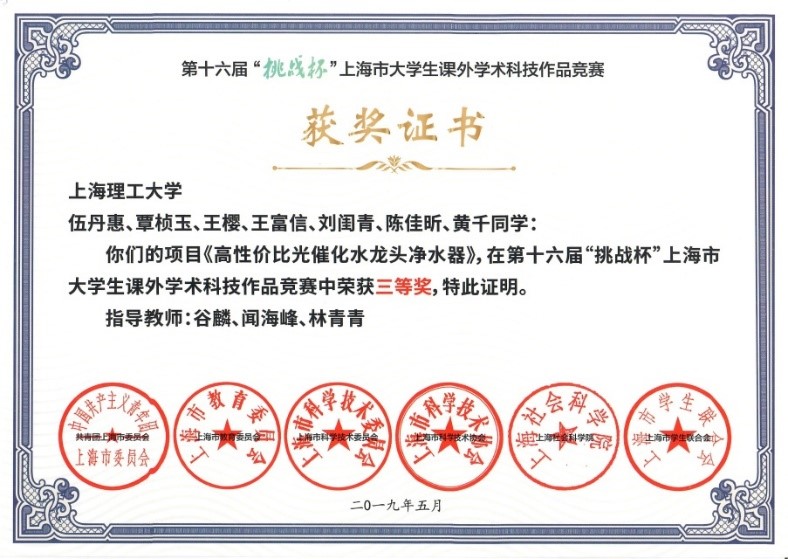 As an environmental professional, Professor Gu Lin always insists on the scientific spirit, based on reality to solve the practical problems. As an environmental professional teacher, Prof. Gu adheres to the original intention of moral education, and imparts his craftsmanship spirit to generations of USST Environmental students. As he said: only the unity of knowledge and practice shows the original intention of craftsman..
Introduction of Professor Gu Lin:
Associate Professor, School of environment and architecture, USST. Specializes in the fields of recycling and utilization of solid waste, sludge based environmental functional materials and advanced oxidation technology. Leader of a project of national natural fund youth fund, participated in national 863 plan and other projects of national natural fund. Won Shanghai Science and Technology Progress Award and Shanghai Science and Technology Invention Award. Published several papers in SCI journals of Water Research and Bioresource Technology.